The popular Inland Empire venue uses Elite ProAV's 120" screen for a large reception hall. The property owner, Edgar, spoke about the screen's finer qualities in serving the video needs of large groups in his main event room.
The room has a capacity for 300 guests and is constantly in demand for both business and family events. Edgar spoke extensively of the screen's benefit as it would be used often with a variety of standard 'long-throw' projectors.
The Saker Tab-Tension 2 Series is an electric projection screen draped with our flexible tab-tensioned CineWhite® front projection material that provides excellent color uniformity with a wide viewing angle. It's tab-tension design assures a flat and taut projection surface that is compatible with ultra, short, and standard throw projectors. It includes a pair of wall brackets for a flush wall/ceiling installation. Also included is a pair of eye-bolt screws that attach to the top of the case for a suspended ceiling installation. Standard features include a wireless 5-12 volt trigger, IR/RF remote control package, and a detachable manual keypad switch.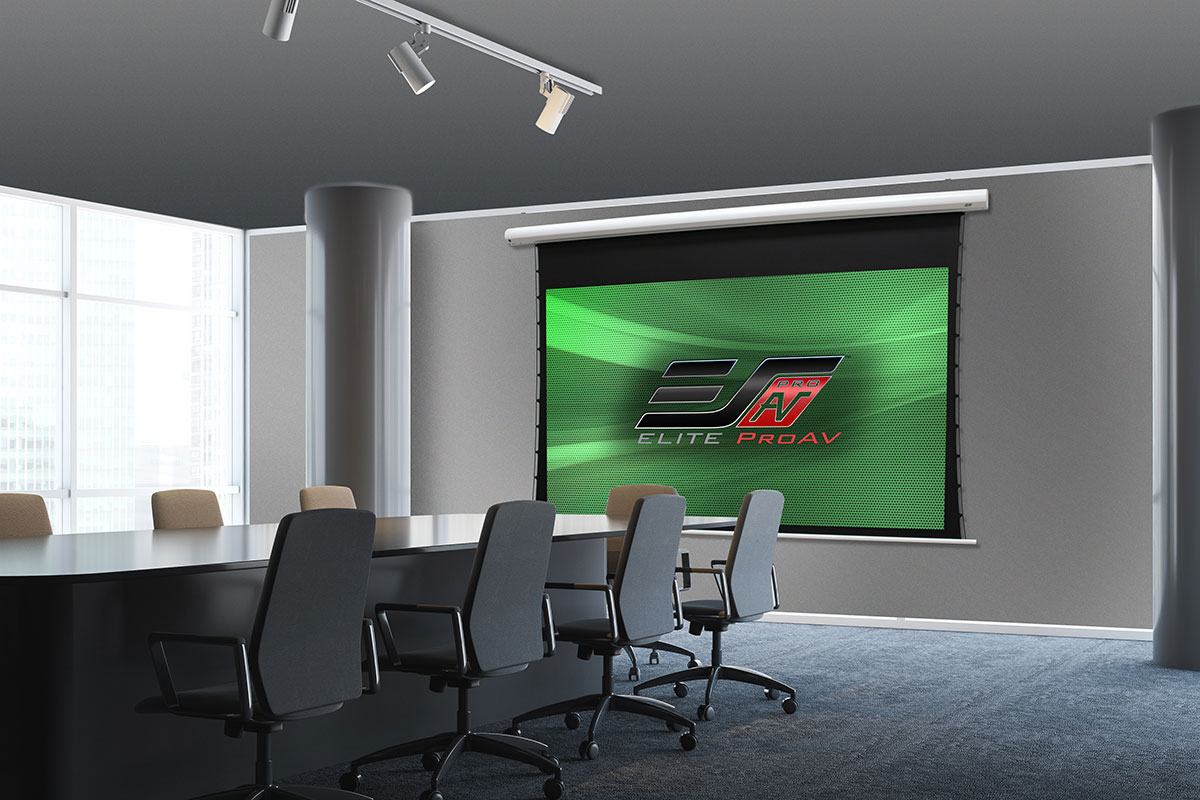 About the Saker Tab-Tension CLR® Series Projection Screen
▪ CineWhite® tab-tensioned matte white material with wide diffusion uniformity.
▪ Tab-tensioned for standard, short-throw, and ultra-short-throw (UST) projectors
▪ Tubular motor allows swift operation with a superior weight tolerance and operational lifespan
▪ Full IR/RF and 12v-Trigger control package
EliteProAV® is a dedicated ISO9001:2015 certified manufacturer of projector screens for the commercial AV sales channel with a wide selection of dedicated commercial grade projector screen designs for professional integrators. This includes certified products that are compatible with building codes as well as programs, warranties and trained professionals to assist installers every step of the way. Product is available through a series of regional warehouses located across the US.
Unprecedented 5-Year Manufacturer's Warranty
The EliteProAV® warranty program provides 5-years warranty service for all Elite ProAV® customers. This means that Elite ProAV's professional staff and company resources are available to handle any warranty needs should they occur.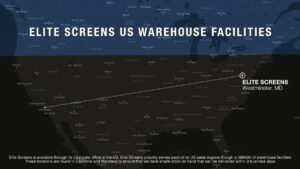 Elite Screens is a Worldwide Company
Elite Screens / Elite ProAV has regional offices worldwide to accommodate North America, South America, Europe, Africa, Asia and Australia/Oceania. Contact us now to learn about our various programs.
See More Case Studies and Learn About The Projector Screen Industry
Elite Screens is one of the world's top brands in projector screens. Our blog is designed to answer the tough questions everyone has but may be afraid to ask on a public forum. Elite's Projection Screen Resource Blog provides you with insight on the latest industry trends, tech tips and customer testimonials so that you may acquire an inside view of this diverse channel.
For more information about Elite ProAV®, please visit our website
or contact us at:
Our toll free number is 877.511.1211.