Elite Screens India Pvt Ltd. Demonstrated its Commercial Line at InfoComm India 2019 in Mumbai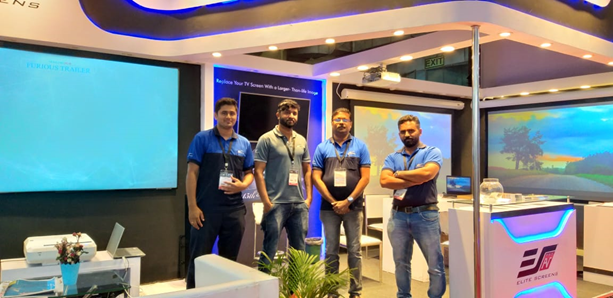 Elite ProAV, the dedicated line of commercial projection screens showed off ts Ceiling Light Rejecting (CLR®/ALR) technology for facilities with high levels of interior lighting.
Thank you for visiting us at Infocomm India 2019 in Mumbai (Stall G08). The show served as a great opportunity to demonstrate our lineup of ambient light rejecting screens. Each of the ambient light rejecting materials qualify for the designation of "CLR®" for their ability to mitigate the washout effects from overhead "ceiling" light sources.
Commercial and residential spaces cannot go dark so Elite Screens India Pvt Ltd. provides screens that deliver perfect picture quality regardless if the lights are on or off. Each of the featured screens were matched with an Epson projector.
-Aeon CLR® – Fixed frame "EdgeFree®" CLR screen for UST projectors
-Saker Tab-Tension CineGrey 5D® – Tab-tensioned electric ALR/CLR® screen for optimal bright room performance
-CineTension 2 – Electric tab-tensioned electric projection screen using a matte white material with wide diffusion uniformity
Click Here for the Latest Videos from Elite ProAV®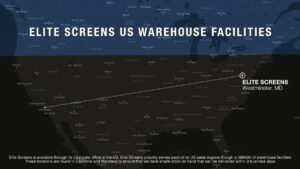 Elite Screens is a Worldwide Company
Elite Screens / Elite ProAV has regional offices worldwide to accommodate North America, South America, Europe, Africa, Asia and Australia/Oceania. Contact us now to learn about our various programs.
See More Case Studies and Learn About The Projector Screen Industry
Elite Screens is one of the world's top brands in projector screens. Our blog is designed to answer the tough questions everyone has but may be afraid to ask on a public forum. Elite's Projection Screen Resource Blog provides you with insight on the latest industry trends, tech tips and customer testimonials so that you may acquire an inside view of this diverse channel.
For more information about Elite ProAV®, please visit our website or contact us at:
Elite Screens India Pvt Ltd
17 Emperor City, Pannimadai, Coimbatore – 641 017.India
Cell: +91 73056440567
email: india@elitescreens.com