Elite ProAV® Partners with D&H Bringing a New Line of Projection Screens with a 5-Year Warranty to the Commercial Integrator Channel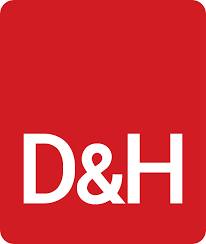 Garden Grove, Calif. Aug. 07, 2019 — EliteProAV®, Inc. an innovative company that specializes in quality projection screens, today announced its partnership with D&H Distributing to bring a whole new line of quality projection screens supported by a superb service team and 5-year product warranty.
D&H is a family and employee owned technology distribution company with over 100 years' experience in providing its signature commitment to serving the reseller, integrator, and installer markets. This world-class technology provider carries technology solutions from the biggest names in the business. This includes companies like HP, Intel, Samsung, Lenovo, and Dell to name a few. With its dedication to customer service in its sales of the latest in innovative products to the commercial installation business channel, D&H makes an ideal partner from which to source fine-crafted projection screens for ProAV projects in a range of vertical markets. D&H launched a series of ProAV resources for VARs and MSPs in 2018. In addition to a list of ProAV hardware and applications, the company provides services such as content creation, cloud-based services, and installation services.
Elite ProAV is a subsidiary of Elite Screens Inc., and is dedicated to providing a variety of projection screens for commercial integrators. The California-based firm provides fixed-frame, manual & electric "roll-up", along with portable and outdoor models. These include material options ranging from matte white to specialty materials such as ALR/CLR® (ambient & ceiling light rejecting), acoustically transparent, rear & dual projection materials or even dry-erase whiteboard-projection screens. The Elite ProAV team is so confident in product quality that each screen comes with a 5-year limited manufacturer's warranty. Ask about special certifications such as ISF for superior 4K/UHD image quality; GREENGUARD® for safe indoor air quality emissions; or our ETL/Intertek fire test and air handling space certifications. All of this comes with Elite's professional support team and their cooperation with D&H and their long legacy of superior service.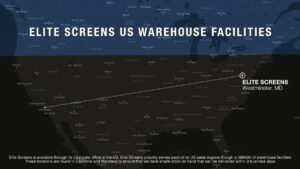 Elite Screens is a Worldwide Company
Elite Screens / Elite ProAV has regional offices worldwide to accommodate North America, South America, Europe, Africa, Asia and Australia/Oceania. Contact us now to learn about our various programs.
See More Case Studies and Learn About The Projector Screen Industry
Elite Screens is one of the world's top brands in projector screens. Our blog is designed to answer the tough questions everyone has but may be afraid to ask on a public forum. Elite's Projection Screen Resource Blog provides you with insight on the latest industry trends, tech tips and customer testimonials so that you may acquire an inside view of this diverse channel.
For more information about Elite ProAV®, please visit our website
or contact us at:
Our toll free number is 877.511.1211.