Elite ProAV's Tripod Tab-Tension Pro CineGrey 5D® Wins Future's Best of Show Award, Presented by Sound & Video Contractor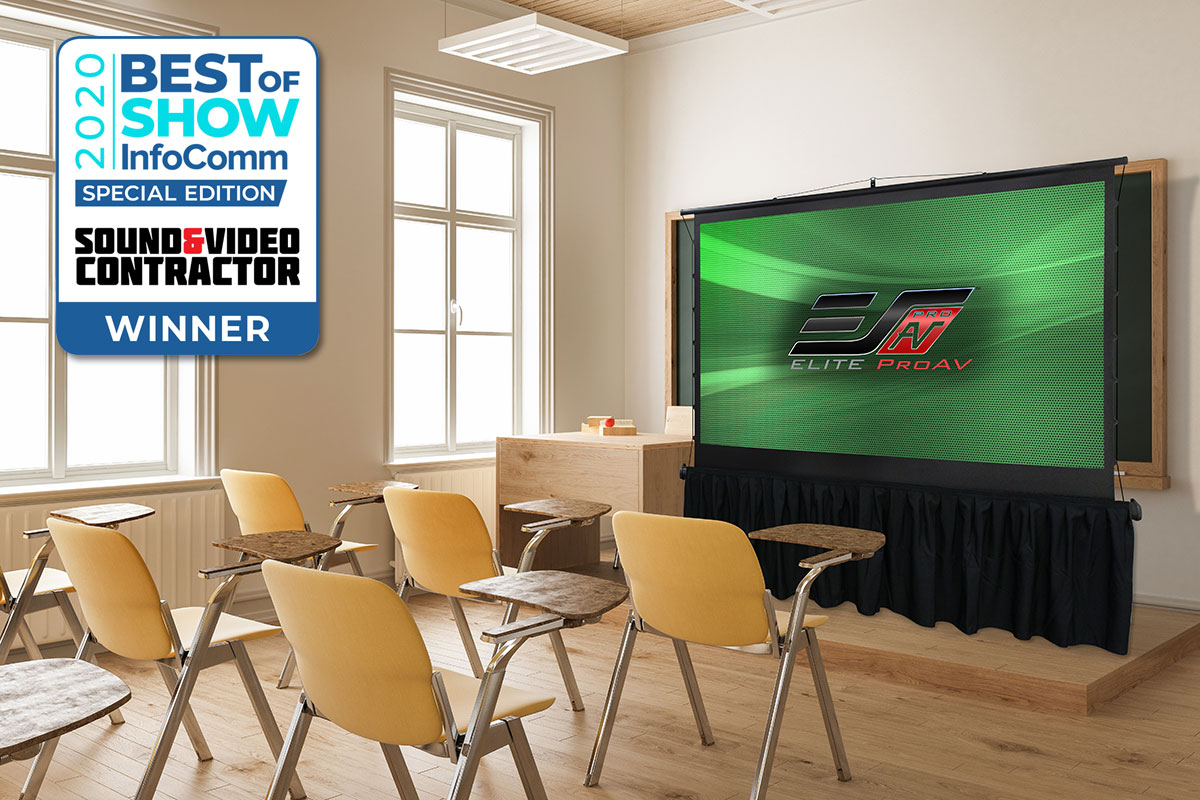 Las Vegas, June 16, 2020 —  The Tripod Tab-Tension Pro CineGrey 5D®, manufactured by Elite ProAV®, is a recipient of the 2020 Future Best of Show InfoComm Special Edition Award by Sound & Video Contractor.
Future's Best of Show Awards are evaluated by a panel of engineers and industry experts, and are selected based on innovation, feature set, cost efficiency and performance in serving the industry.
Winners receive an award for display and will be featured in Sound & Video Contractor, the definitive technical resource for integrators, contractors, dealers and consultants.
All nominated products are featured in the special Best of Show Awards Program Guide, to be distributed in digital edition form to more than 100,000 readers of Sound & Video Contractor, AV Technology, Digital Signage, Installation, Government Video, Pro Sound News and Tech & Learning.
"We are proud to be able to celebrate the achievements of product teams in this most unusual year," Sound & Video Contractor editor Cynthia Wisehart. "In many cases these products are the result of years of effort to provide features and innovation that move the industry forward. Normally these products would have debuted on the show floor. We are happy to be able to acknowledge them in a uniquely 2020 way and help draw attention to the efforts of all the engineers, designers, product managers and executives involved."
About the Tripod Tab-Tension Pro CineGrey 5D®
The Tripod Tab-Tension CineGrey 5D® series is a unique type of projection screen which features an ambient light rejecting material on a portable, free-standing, "roll-up" configuration that is equipped with enhanced features for high end presentations. The tab-tension reinforced CineGrey 5D® is an ambient and ceiling light rejecting® (CLR®) projection material that is ISF Certified for reference quality performance. The tab-tension feature creates a flat and taut projection surface that is ripple-free.
Availability and Warranty
Elite ProAV's Tripod Tab Tension Pro CineGrey 5D® Projection Screen is available through the dedicated System Integrator (ProAV) channel in a 16:9 and 4:3 aspect ratio with 110″ and 120" sizes available. It comes with Elite ProAV's 5-year manufacturer's warranty plus an ENR-G 5% discount for purchases through Educational, Non-Profit, Religious and Government/Military organizations.
Fast fulfillment and shipping: Elite has regional warehouses in California and Maryland.  This means your order can be fulfilled and delivered to you in as little as 3-days using standard ground services.
About EliteProAV
Elite ProAV® is a dedicated manufacturer of projector screens for the commercial AV sales channel. It provides an array of dedicated commercial grade projector screens for professional integrators.  This includes certified products that are also compatible with building codes as well as   programs, warranties and trained professionals to assist installers every step of the way.  Product is available through a series of regional warehouses located in Southern California, and Maryland.
EliteProAV® is a division of Elite Screens Inc., an ISO9001:2015 certified manufacturer that is presently the leading international brand of CE Retail projector screens with offices located in California and Maryland with facilities in Germany, Taiwan, China, Hong Kong, Japan, India, and Australia. Elite is an ISO9001:2015 certified manufacturer that specializes in producing retail, commercial and home-theater projection screens for virtually any presentation environment. This includes front/rear projection as well as matte white, ALR/CLR, and acoustically transparent materials. Elite delivers its promise of top-level quality through cost effective products for today's discerning video enthusiasts. Our team is proud of the industry certified, award-winning products and service that our industry demands.
EliteProAV® is headquartered at 12282 Knott St. Garden Grove, CA  92841.  For more information, please call 877-511-1211 or visit www.eliteproav.com .