Elite ProAV™ Releases its Latest Video about the Saker Plus Large Venue Projector Screen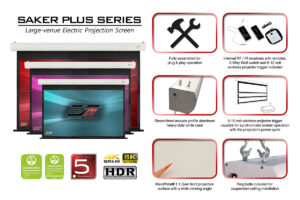 (Click image for Video)
The Saker Plus is One of the Best Large Venue Electric Projector Screens on the Market Today
This product was a long time in its development and Elite ProAV is proud to offer the market a top quality, professionally crafted projector screen for large venue presentations. The Saker Plus is ideal for auditoriums, gymnasiums, or other large indoor spaces.
In the latest video from Elite, the Saker Plus and its various features are covered in a short and sweet 2-minute video.
We look forward to answering your questions.
-Dave
Dave Rodgers, Marketing Manager
Elite Screens Inc.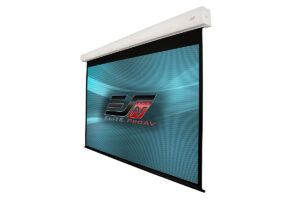 About The Saker Plus Series
The Saker Plus is a Large Venue electric motorized projection screen. Its list of complimentary features include Infrared and Radio Frequency remote controls, a wireless 12 volt trigger and a detachable keypad switch for manual Up/Stop/Down control. The MaxWhite® 1.1 gain front projection material has a wide viewing angle and is GREENGUARD® Gold Certified.
We Can Fufill Your Order Within 3-Business Days
Elite Screens has four major facilities in the US (California, Texas, Georgia, & Maryland) to serve the various regions quickly and effectively. Call us now to learn about our various programs.
See More Case Studies and Learn About The Projector Screen Industry
Elite Screens is one of the world's top brands in projector screens. Our blog is designed to answer the tough questions everyone has but may be afraid to ask on a public forum. Elite's Projection Screen Blog provides you with insight on the latest industry trends, tech tips and customer testimonials so that you may acquire an inside view of this diverse channel.
For more information about Elite ProAV™, please visit our website
or contact us at:
Our toll free number is 877.511.1211.