CineGrey 5D®
The CineGrey 5D® is an angular reflective front projection material designed to reject ambient light while maintaining superb picture quality. The CineGrey 5D® is the perfect solution for rooms that have little or no control over incidental light. This means that it's an ideal fit for family rooms as well as lecture halls, boardrooms, sports bars, training facilities, and other business environments. In addition, the CineGrey 5D® increases projector brightness 1.5 times the amount. This is perfect for low lumens ouput projectors!
The CineGrey 5D® is superior to traditional white or gray materials in its ability to maintain a sharp, bright image regardless  of ambient light. The angular reflective material incorporates a diffusion layer over a highl reflective surface. This causes direct light from the projector to reflect squarely into the viewer's field of vision while the outer contrast layer enhances image quality while reflecting indirect ambient light.
Product Availability: Saker Tab-Tension CineGrey 5D®, Pro Frame Thin CineGrey 5D®, Evanesce Tab-Tension CineGrey 5D®, Tripod Tab-Tension Pro CineGrey 5D®
Features & Benefits
ISF Certified for accurate color points, color temperature and dynamic range
High fidelity gray surface produces superb clarity and sharp images
Screen surface can be cleaned with a microfiber cloth
88% polarization retention
Angular-Reflective and Ambient Light Rejecting technology
For Standard "Long" Throw Projectors. (NOT Compatible with Ultra/Short Throw Projectors)
Mildew Resistant
View Angle: 80º (L&R 40º)
Gain: 1.5
GREENGUARD®

 and 

GREENGUARD® Gold

Certified | UL 2818

Active 3D, 4K Ultra HD, and HDR Ready
Flame Retardant: Complies with NFPA 701 Standards
Minimum Lens Throw 1.5
Perfect companion piece for Airflex5D – 2D/3D Multi-Projector Stacking System to form as a professional grade passive 3D system.
"The material was reasonably color neutral. It appeared to have a very smooth surface. It also had many sparkling elements to increase the gain. This material is intended to aid in rooms with significant scattered light from walls and ceilings. This is an excellent alternative to a Firehawk.
– W. Jeff Meier
  AV Consultant
  www.accucalhd.com
ALR Material Tip
Projector Placement for Angular-Reflective Screen
Notice to Installer:
Please use the following installation instructions to obtain superior optical performance from the ALR (Ambient Light Rejecting) Screen.
Angular-Reflective material is not compatible with ultra/short-throw projectors
Minimum lens throw ratio 1.5x image width
Ambient light must not come from the same direction as the projector
Since angular-reflective means that the projected image will reflect at the mirror-opposite angle, it is important to position the projector so that the viewer will get the best possible image.
Step 1: Establish the general "eye level" of the viewers
Step 2: Set the appropriate projection level
Step 3: Adjust the screen height level and projection angle
Input Angle (A) = Output Angle (B) aligns with the viewer's angle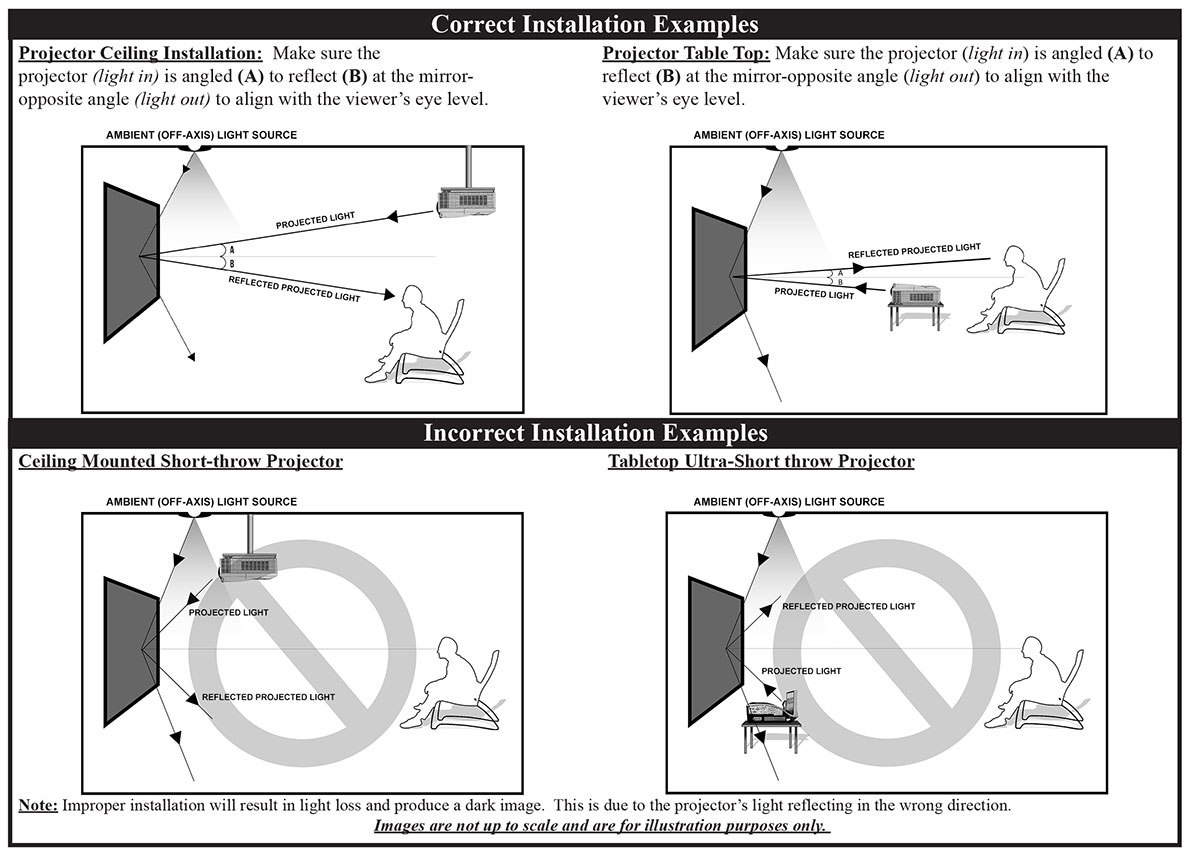 .
You have not viewed any product yet.