Jaime Abrego, Product Manager of Elite Screens, Joins Projector Reviews Fall Projection Summit.
Jaime Abrego, Product Manager of Elite Screens, Joins Projector Reviews Fall Projection Summit.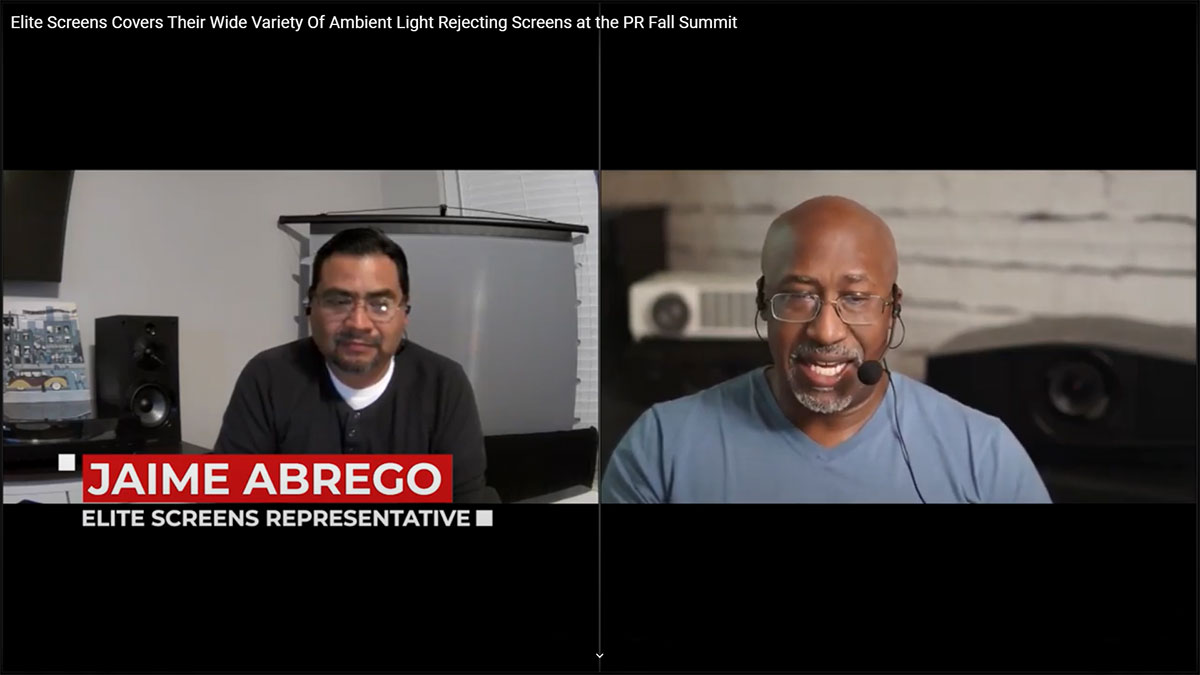 From the wide variety of projection screen solutions offered by Elite Screens, Product Manager Jaime Abrego discusses the Ceiling Ambient Light rejecting screens lineup with Phil Jones of Projector Reviews. See how ALR screens can enhance your living room or home theaters as well as provide solutions for business presentations.
About ALR/CLR® Projection Screens
An ambient light rejecting screen negates the washout effects of ambient light while maintaining superb picture quality under normal room lighting conditions. The ambient light rejecting projector screen is the perfect solution for rooms that have little or no control over incidental light. This means that an ALR screen is an ideal fit for family rooms as well as lecture halls, boardrooms, sports bars, training facilities, and other business environments. There are many ambient light rejection projector screen variants to choose from. This includes CLR® or ceiling light rejecting projector screen materials are specially designed for the presence of overhead light sources commonly encountered in residential and commercial environments. This type is also specifically geared toward UST or ultra short throw projectors. The ALR projector screen is superior to traditional white or gray materials in its ability to maintain a sharp, bright image regardless of ambient light. The angular reflective or retro reflective material incorporates a diffusion layer over a highly reflective surface. This causes direct light from the projector to reflect squarely into the viewer's field of vision while the outer contrast layer enhances image quality while absorbing indirect ambient light.
---
About the Imaging Science Foundation "ISF" Certification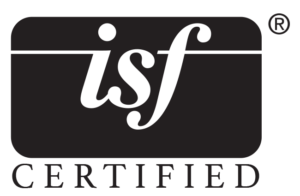 Reference grade picture quality
Neutral Color Temperature
Superior Color Contrast
Enhanced Black-White Dynamic Range
---
Unprecedented 5-Year Manufacturer's Warranty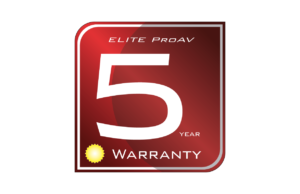 The EliteProAV® warranty program provides 5-years warranty service for all EliteProAV® customers.
This means that EliteProAV's professional staff and company resources are available to handle any warranty needs should they occur.
We Can Fulfill Your Order Within 3-Business Days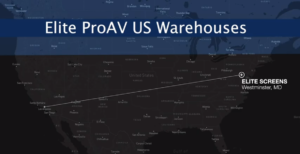 Elite Screens / Elite ProAV can fulfill your order quickly through our West & East Coast (CA/MD) facilities. Each location serves the various regions quickly and effectively. Contact us now to learn about our various programs.
Learn About The Projector Screen Industry.
Elite Screens is one of the world's top brands in projector screens. In addition to our channel of videos, we host a blog to answer the tough questions everyone has but may be afraid to ask on a public forum. Elite's Projection Screen Blog provides you with insight on the latest industry trends, tech tips and testimonials so that you may acquire an inside view of this diverse channel.