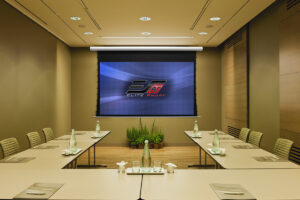 (Click image for Product Page)
For a Limited Time, Get Half-Off on Your Shipping Charges With Each Purchase
Elite ProAV, the dedicated commercial integrator division of Elite Screens Inc., is proud to announce that for a limited time, you can get 50% off your shipping costs with every purchase.
When you buy any one of Elite ProAV's projector screens via Elite Screens B2B system, your shipping costs will be cut by 50%. Here are the terms:
▪ Choose from any of Elite ProAV's Projection Screens via Elite Screens' B2B system.
▪ Elite will cover the 50% reduction in ground shipping charges to consignees located within the 48 Contiguous States.
▪ Offer expires while you wait. It went into effect on May1, 2018 and will expire on New Year's Eve, December 31, 2018.
We Can Fufill Your Order Within 3-Business Days
Elite Screens can fulfill your order quickly through our West & East Coast (CA/MD) facilities. Each location serves the various regions quickly and effectively. Contact us now to learn about our various programs.
See More Case Studies and Learn About The Projector Screen Industry
Elite Screens is one of the world's top brands in projector screens. Our blog is designed to answer the tough questions everyone has but may be afraid to ask on a public forum. Elite's Projection Screen Blog provides you with insight on the latest industry trends, tech tips and customer testimonials so that you may acquire an inside view of this diverse channel.
For more information about Elite ProAV™, please visit our website
or contact us at:
Our toll free number is 877.511.1211.